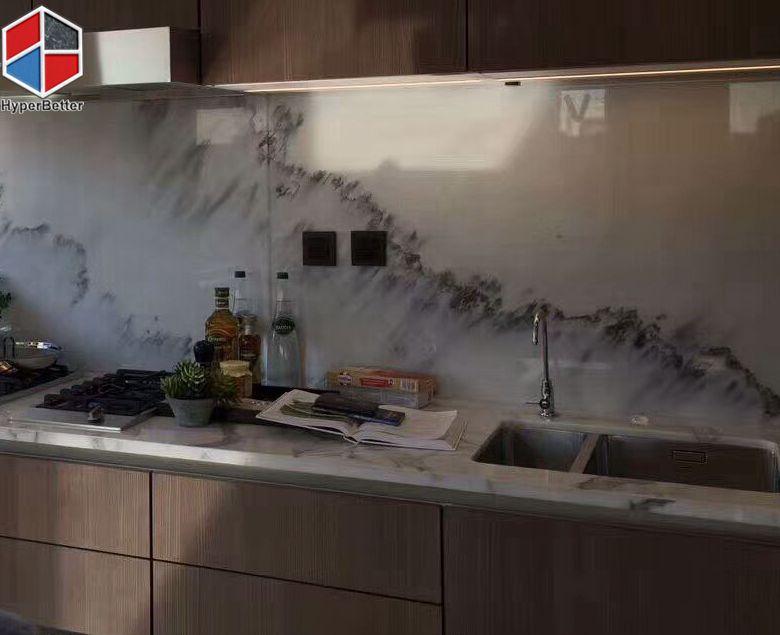 How you choose for worktops ?

Worktop, including kitchen countertop, bathroom vanity top, is a horizontal work surface in kitchens or other food preparation areas, bathrooms or lavatories, and workrooms in general. It is frequently installed upon and supported by cabinets. A worktop may be constructed of various materials with different attributes of functionality, durability, and aesthetics.
Worktops often made of different materials depending on their usage, primary considerations of material choice and conformation are durability, functionality, hygienics, appearance, and cost. The most common and durable type of material used is granite and marble because they are high-hardness, resistant to corrosion, wear-resisting and moisture resistant.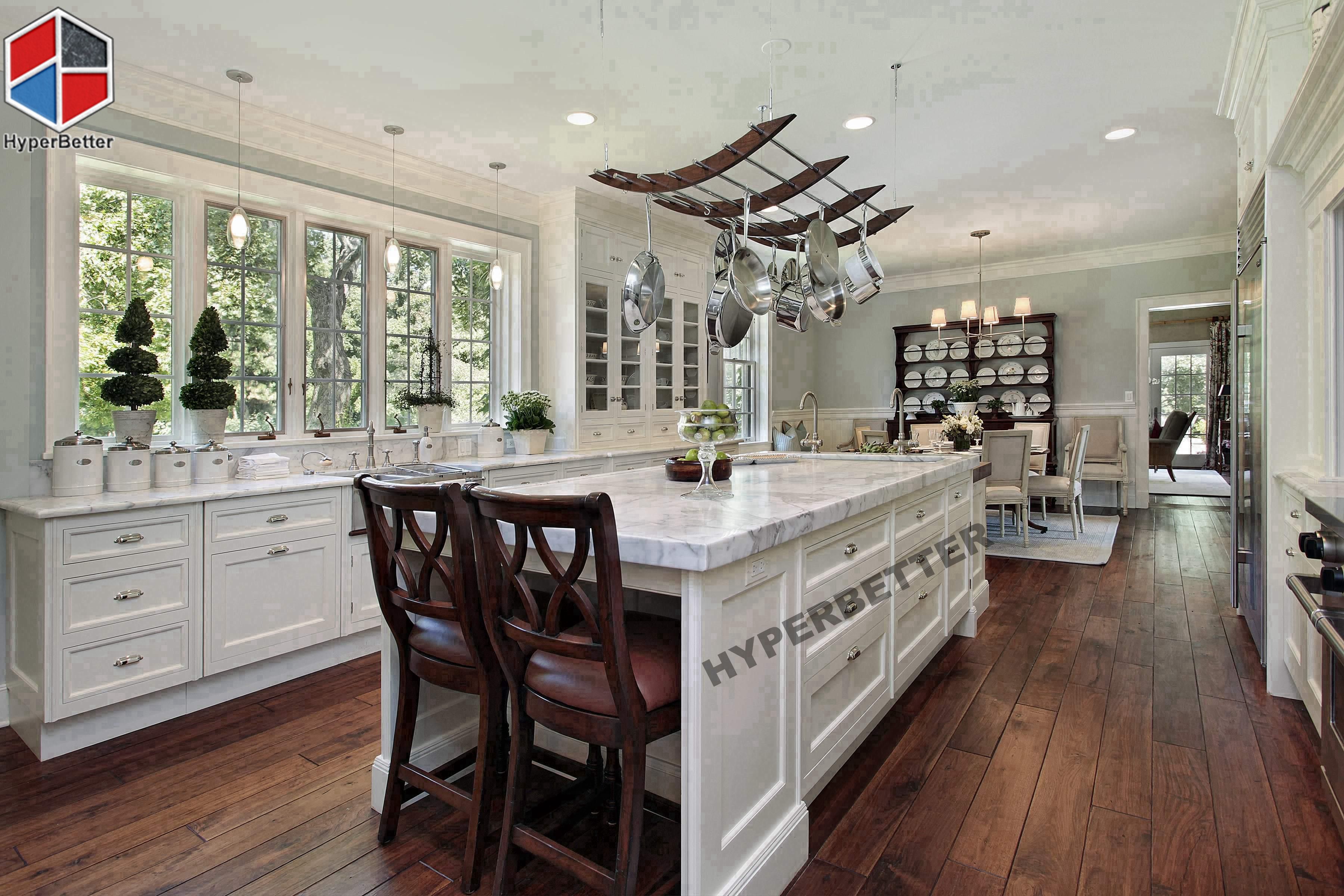 Quartz is artificial stone that has the appearance of and resemble real stone marble. It is a more economical and durable alternative to natural marble, the finished product is significantly less expensive than natural marble, and four times stronger than natural marble. Quartz is made from approximately 95% natural quartz and 5% polymer resins, it can be made into countertop, vanity top, bathtubs, shower tray, and series bathroom products.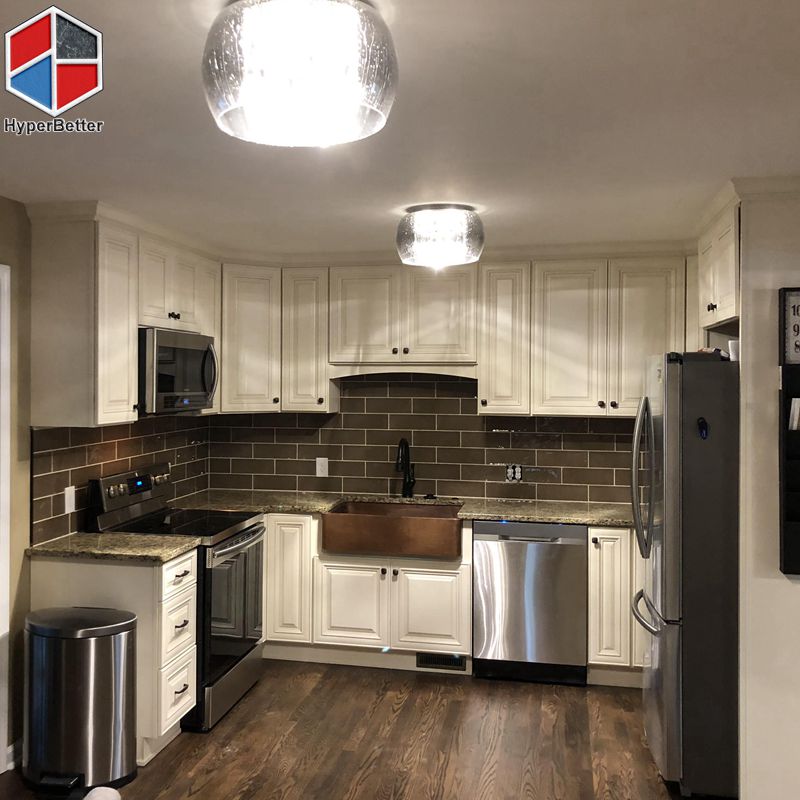 Other materials to build worktops may include: Stone Series:1) Quartz, 2) Marble, 3) Limestone, 4) Slate, 5) Travertine; Metal Series: 1) Stainless steel, 2)Aluminium; Wooden and Resin and soon.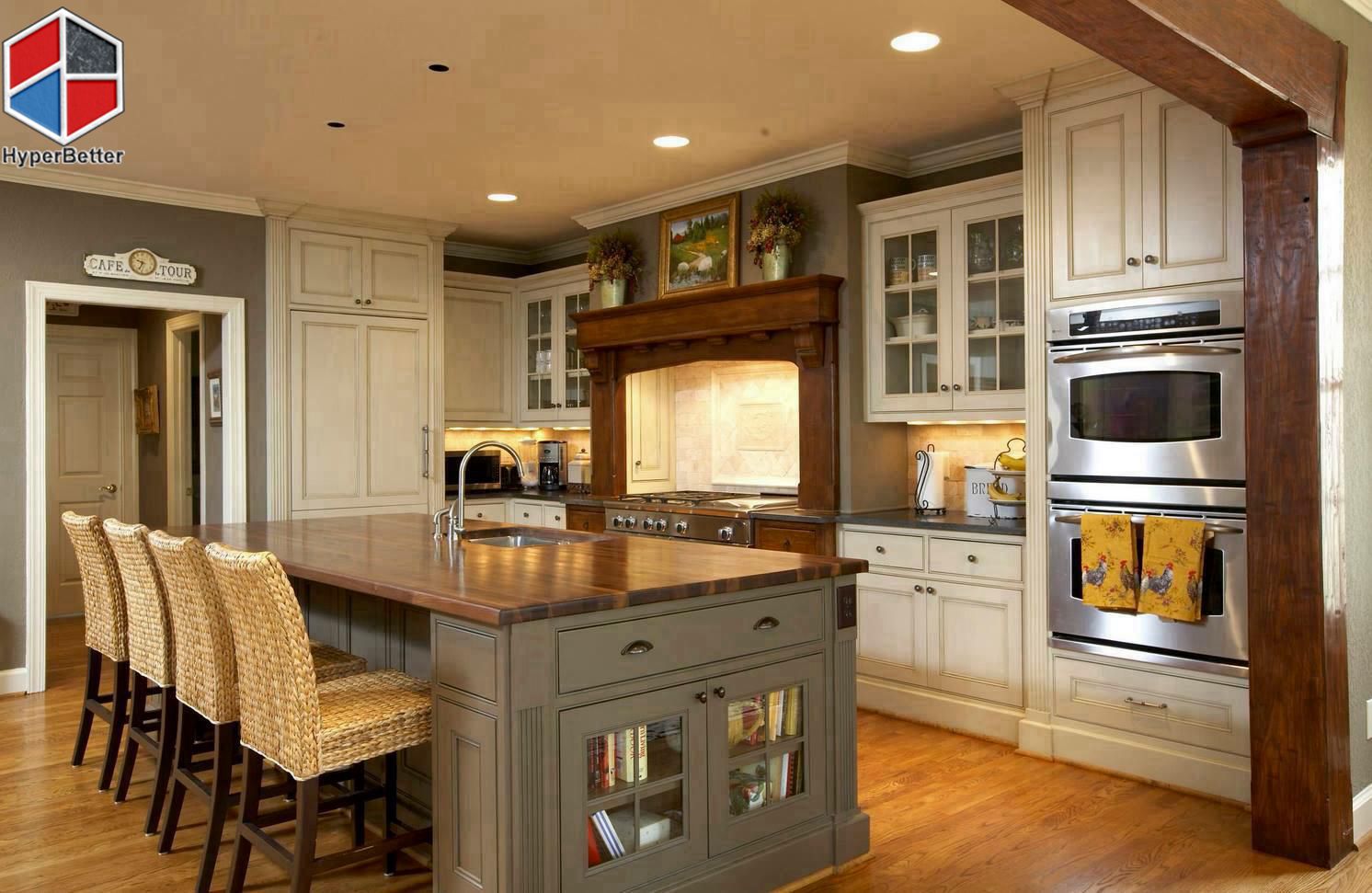 Kitchen countertops may also be installed on freestanding islands, dining areas or bars, desk and table tops, and other specialized task areas, they are often conformed to accommodate the installation of sinks, stoves or other accessories such as integrated drain boards, and cutting boards.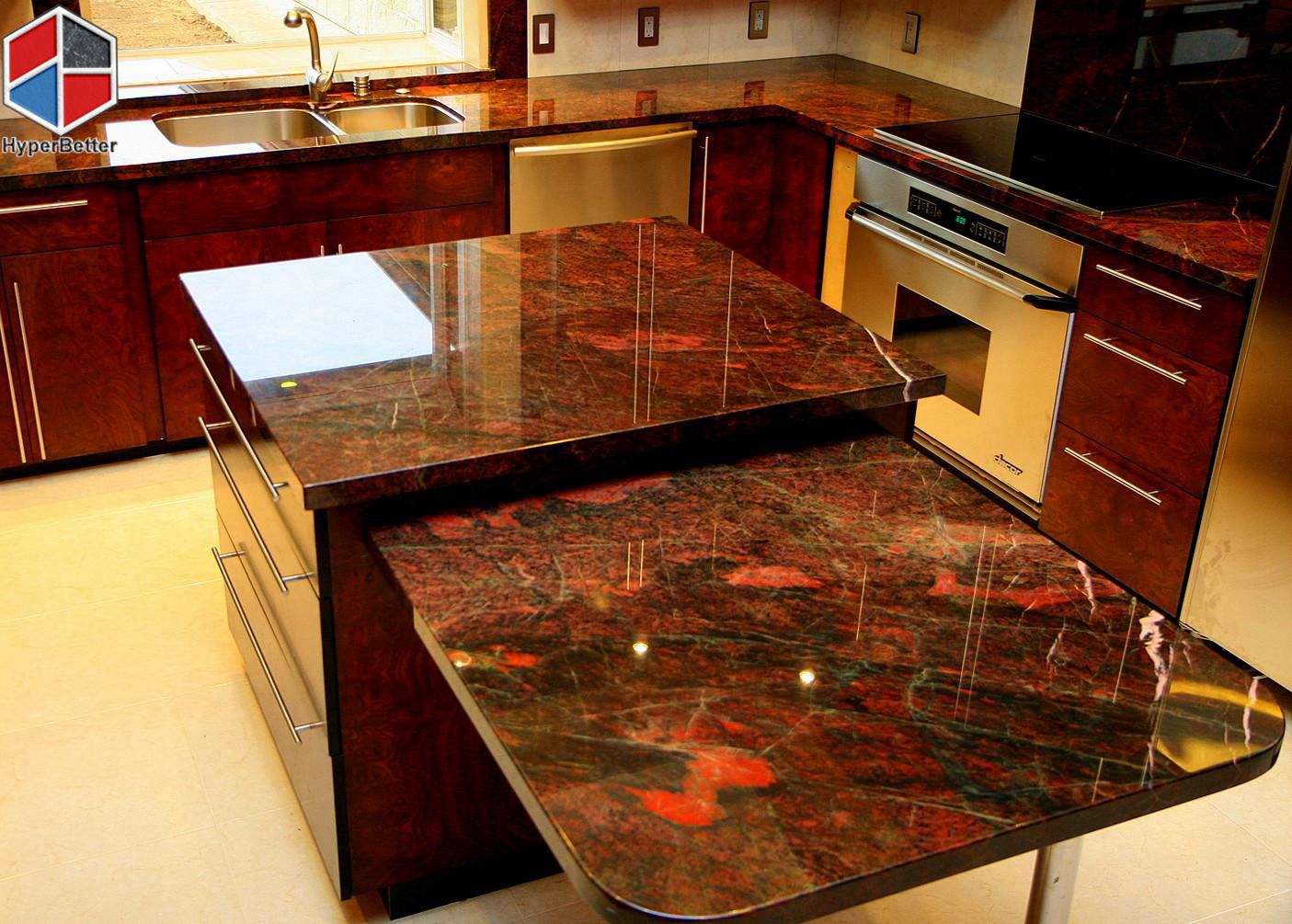 A — In the US
When installed in a kitchen on standard U.S wall-mounted base unit cabinets, countertops are typically about 25-26 inches (635–660mm) from front to back and are designed with a slight overhang on the front (leading) edge. This allows for a convenient reach to objects at the back of the countertop while protecting the base cabinet faces.
The countertop standard width is 24 inches (approximately 600mm). Finished heights from the floor will vary depending on usage but typically will be 35-36 inches (889-914mm), with a material thickness depending on that chosen.
Thickness: 
An optimal thickness for kitchen granite countertops is 3/4″. Since granite is a heavy material (12 lbs/sq), thicker granite should be avoided as it puts huge amounts of stress on your cabinets. For a thicker show, a double edge treatment, such as double bullnose edging is recommended. This makes granite appear 1-1/2" thick without adding additional stress on your cabinets. However, we can also supply granite in 3cm thickness if requested.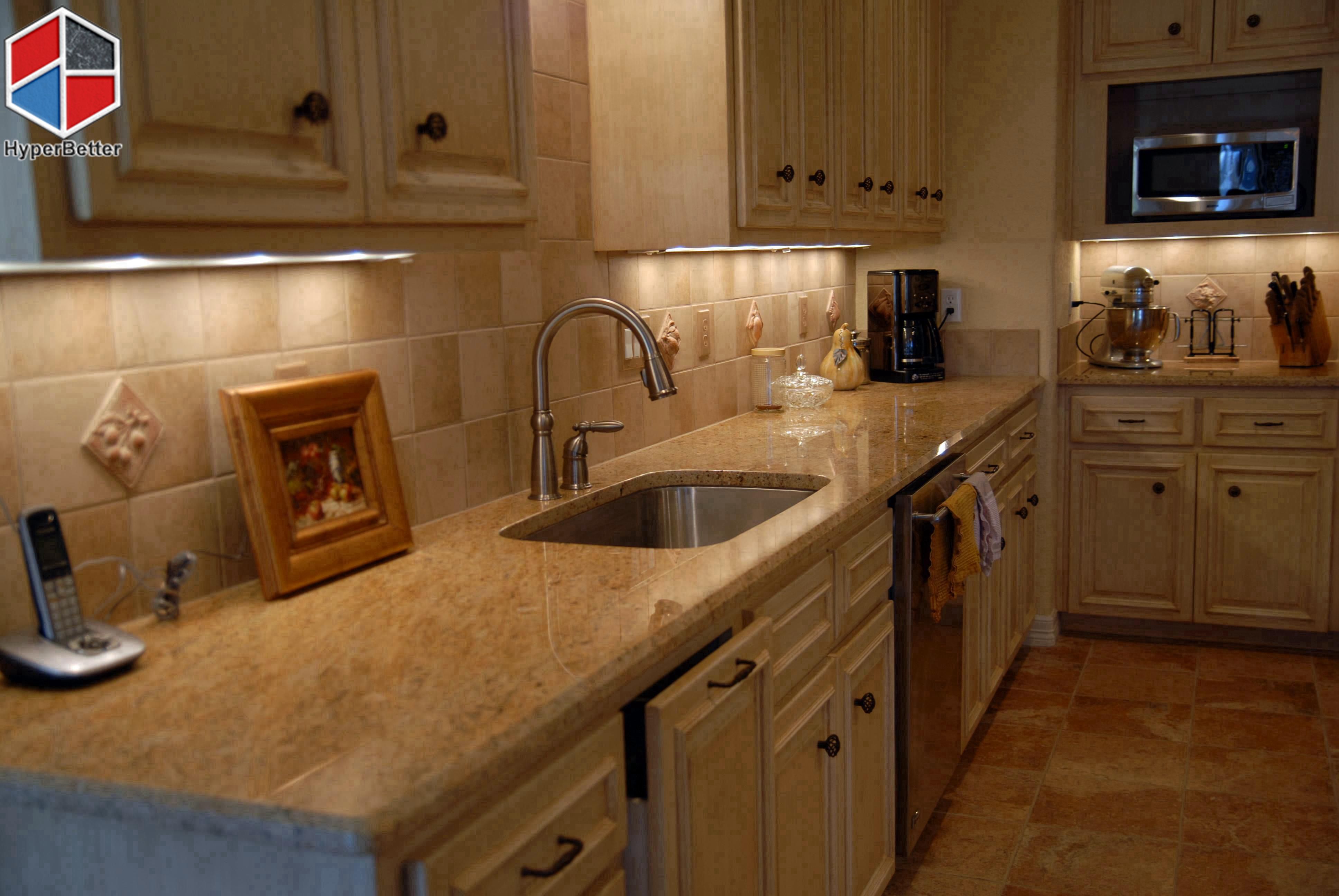 Commonly, initial worktop fabrication takes place at quarry, with blocks being sawn to standard size, this method removes the need to ship waste material, and reduces the time needed to prepare client orders. Then natural stone are shaped using cutting and finishing equipment in the factory, the edges are commonly put on by grinders, or CNC equipment.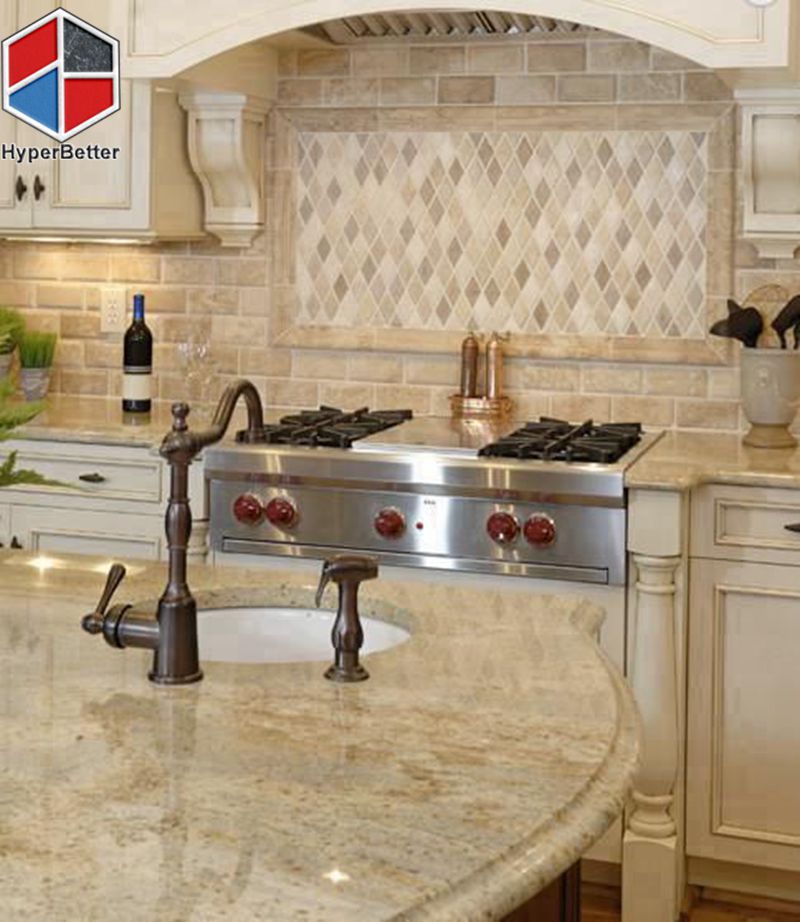 Sink Installation: Work top allowing for installation of different sinks and cooker designs. They are mounted in templated holes cut in the countertop, the rim forms a close fit, reinforced with a sealant, on the top surface of the countertop. Most materials also allow the installation of a "bottom-mount" or "under-mount" sink. With these, the edge of the countertop material is exposed at the hole created for the sink. The sink is then mounted to the bottom of the material from below, especially for under-mount sinks, silicone-based sealants are typically used to assure a waterproof joint between the sink and the countertop material.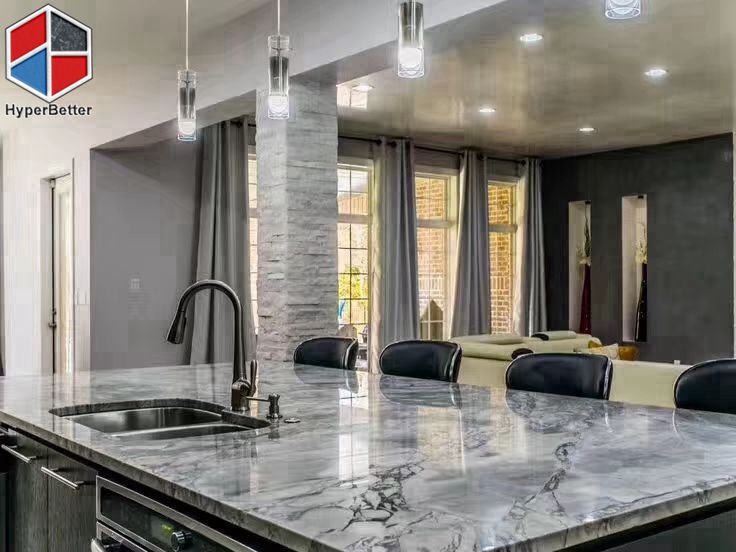 Hyperbetter hope to be your 

reliable

cooperation

partner in China!