Yellow crystal onyx book matched 4pcs slabs,Yellow Crystal onyx is perfect backlit onyx for wallpaper, table top and tiles .  It has clear veins, mixed dark and cream etc colors. magic. As book matched for wall background or floor. It could be 2 pcs, 4 pcs and more pcs you require, here we could dry lay in advance and send you the perfect product. 
Hyperbetter focus on high quality and luxury material very well.
A–  Bookmatched maya onyx wityout lighting on back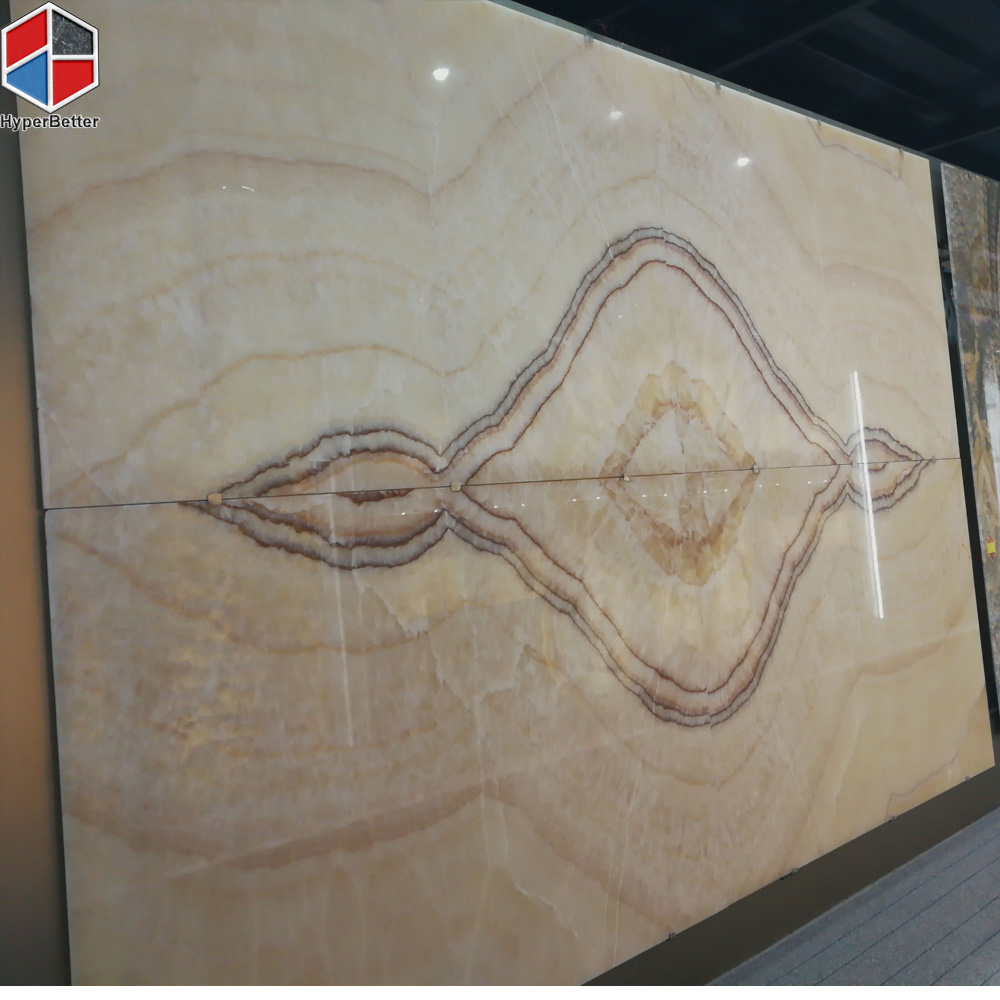 B–  Bookmatched maya onyx wity lighting on back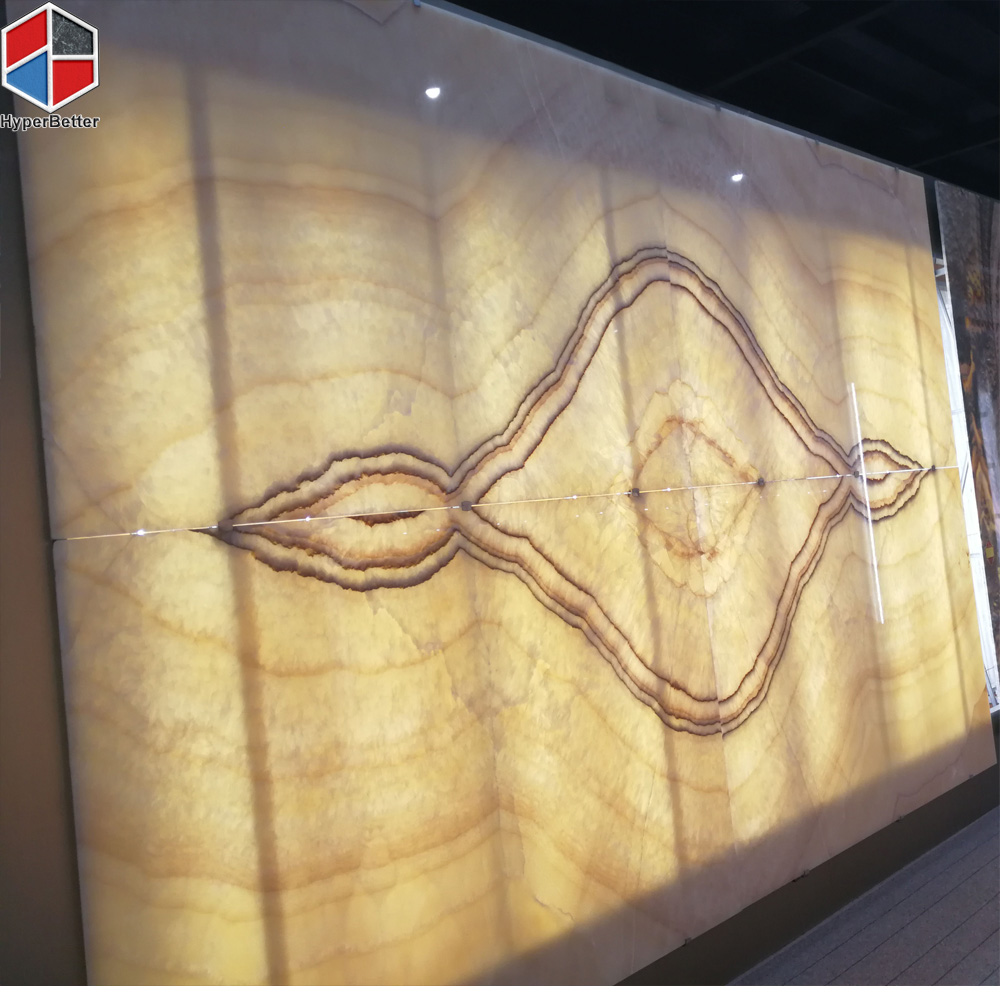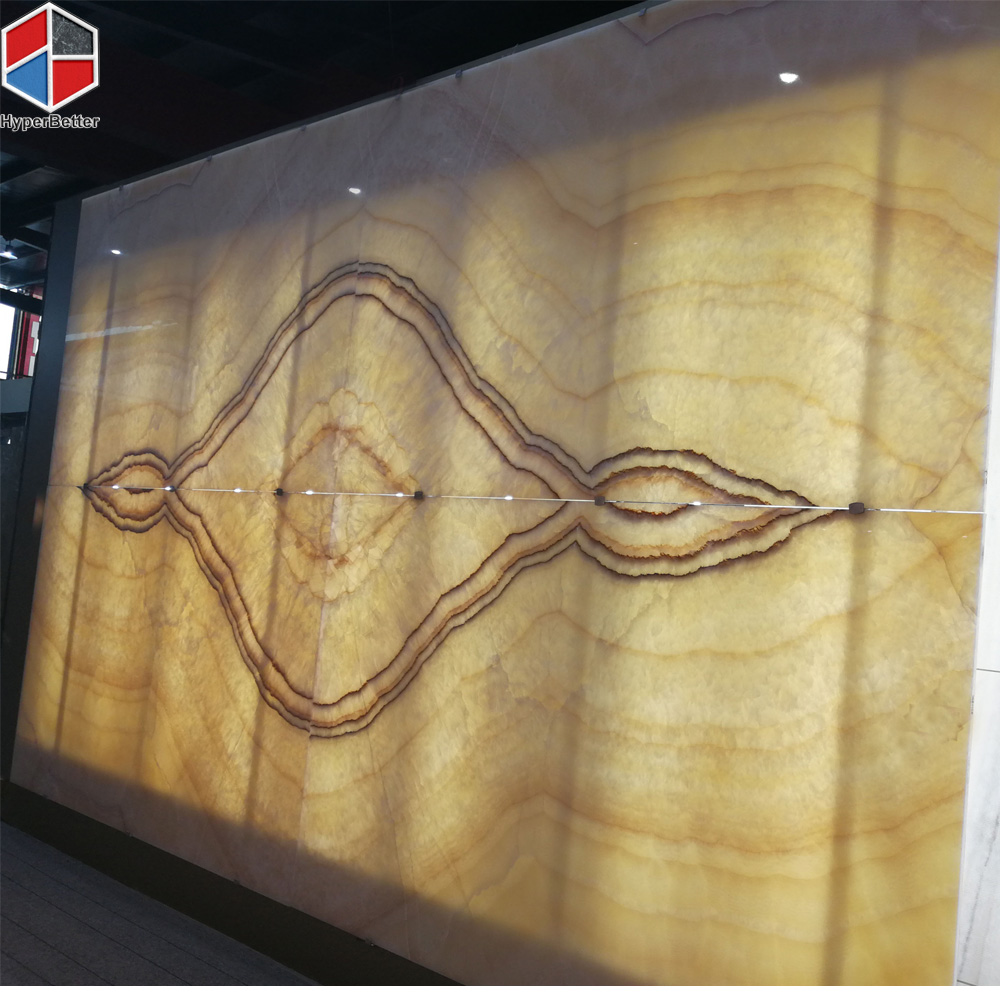 WHY YOU CHOOSE HYPERBETTER AS YOUR RELIABLE PARTNER ?
1) Quality guarantee.
QC team is experienced stone people who care the quality more than you. Because our goal is QUALITY is CUSTOMER. We want our customer sleep well after they give the orders to our hands, and smile when open the containers from us.  Photos will be taken for your reference.  In case of any broken, double quantity will be sent in next shipment against photos.
2) Price Guanrantee
We are trying our best to offer you the best price. But not all of materials, to be honest, No company could offer all materials at the best price in market. The guarantee from us is you will receive the best reasonable prices from us. Same quality, you will get better prices from us.
POINTS YOU MAY CONCERNED for this product.
Yellow crystal onyx book matched 4pcs slabs 
Product Specifications:
Product name

Yellow crystal onyx book matched 4pcs slabs

Finished Products

 Slabs, Tiles, Cut-To-Size, Countertops, Window sills, Steps & Riser stairs, , Vanity tops, Work tops, Columns, tombstones and Monuments

Tiles

 30.5×30.5x1cm,  61×30.5x1cm,  40x40x1cm/1.5cm,  40x40x2cm/3cm, 50x50x2cm/3cm, 60x30x2cm/3cm, 60x40x2cm/3cm,  60x60x2cm/3cm or Customized 

Slabs

 1800x600x20/30mm, 2400x600x20/30mm or as per requirement

Cut-to-size

 30.5 x 30.5cm, 40 x 40cm, 60 x 60cm, 90 x 90cm,

120X33cm, 220up x 60cm in various appointed size.

Countertop

 

25.5*96, 25.5*78, 26*78, 25.5*99, 96*26, 108″ x 26″, 100″ x 36.5″, 84″ x 36″, 72″ x 48″, other sizes are available upon request.

Surface finished

 polished, honed, carved, Flamed, Sandblasted, Rough hammered, Bush hammered ,etc

Packing

 strong seaworthy wooden crates or wooden bundles, lined with plastic foam

Advantages

 1)9 years'experienced with our factory's strong support2)High quality and comparative offers can definitely meet your demands and satisfy you and your esteemed customers.
1).  More big size bookmatched onyx slabs 
 Backlit case of onyx.
 FAQ maybe you concerned:
1.Question: Could I get samples?
Answer: Yes, sample is available, small piece sample will be free, and for big size sample will be charged and fee reduct from order you place..


2. Question: How many materials you are offering?
Answer:  So far, more than 80 different materials are offering well. More materials are available. Do send us photos after you are interested in some new materials.
3. Question:Where is the factory ?
Answer: The factory is around one hour from Xiamen city, located in Shijing, Fujian Province, China, There is a marble and granite market, so you could check more new materials offering.
4. Question: How about Xiamen city?
Answer:  You need to be here, Xiamen is a nice island city in south of China, 35kmx45km island, good at sea food and Chinese KongFu tea.  Views have GULANG island you will see some nice contructions in 20 century. maybe one is your country style. Beside the job, give one day for Xiamen city.  Xiamen welcome you–my friend. 
We care our product
We care your product
HyperBetter -Your reliable stone partner in China
Prompt delivery, superior quaity, all specifications are available, small order is accepted, welcome to contact with your specification.